With the growing popularity of patreon, I thought I would also jump on the bandwagon and create my very own patreon page.
Basically patreon is a site where you can support your favourite content creators and get something back for your donation. I've got a couple of small offers available so far and am open to doing more suggestions in the future for those who would like to donate more.
These are the current rewards available: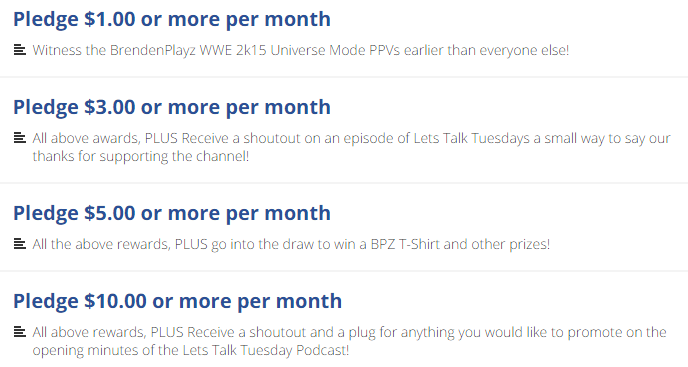 I personally encourage you all to jump on the $1 per month to get the universe mode PPVs early if you are a big fan of the series. A small contribution goes a long way and now you can also get something extra in return for your kindness.
Obviously this is optional but I thought I would make you all aware, especially with the bigger PPV's coming up in universe mode.
The money will all be used to help fund different things for the forum, website and my channel. As a lot of you know I'm looking to upgrade my PC so I can make more videos and stream at a better quality and more often, a lot of the donations will be put towards just improving your overall experience with BrendenPlayz.
Visit the patreon page for more information.