I'm always on the lookout on different ways to better my product and make my videos more entertaining and enjoyable for the viewers. With this in mind, I've decided to branch out and make the Lets Talk Tuesday podcast even more interactive by introducing the ability to send in voice mail questions to the show! You can send in your voicemail questions to be played on the show! Have your voice heard on the show and have your say!
To do this, go to any page on the BrendenPlayz website and on the right hand side of the page will be a an orange button, click on the button. Allow your microphone to be used by the application and record your question! You can then play it back and if you're happy with it, you can send it through.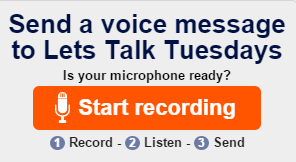 Questions can only be a maximum of 90 seconds in length, please keep your questions short, precise and to the point.
I hope you guys enjoy the new option and I encourage you all to use it in future episodes.